XL-Connector is a locally installed app that doesn't send your data anywhere outside of your secure environment. There's no cloud component to it, so the data travels directly between your PC and Salesforce instance over a secure encrypted channel.
XL-Connector provides tools to pull data from Salesforce, work on it in Excel, and push it back with one click - no CSV files, no hassle, and you have all the amazing tools of Excel right at your fingertips: pivot tables, charts, formulae, lookups, etc.
Getting fresh data from Salesforce.com is even easier – just click "Refresh All" and all connected data sources will get updated instantly along with all the pivot tables or charts connected to them.
Once installed, go to XL-Connector tab in your Excel ribbon, log in with your Salesforce ID and click "Reports". It took us longer to type this sentence than for you to have your real life data appear on the screen in a familiar Excel UI.
Multiple Accounts Support
And if you have several logins, XL-Connector keeps them for you so switching between accounts is easy. There's no limit as to how many Salesforce.com orgs you can connect to.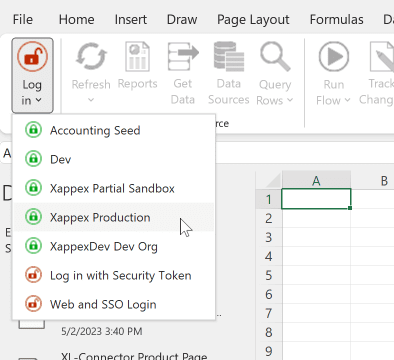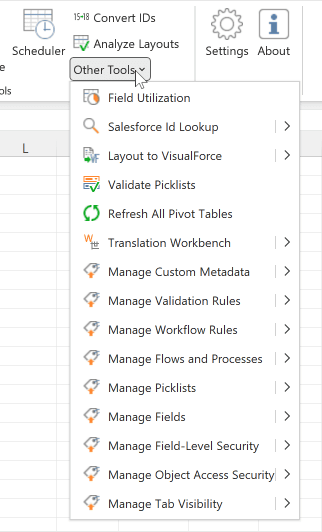 Administrator's Must Have
A huge assortment of data loading and metadata management tools will hugely boost the productivity of your Salesforce admins and developers.
Tasks that normally take days, like updating the descriptions and help texts of data fields, will take minutes with XL-Connector