Importing Data from Salesforce.com Reports
With XL-Connector 365, you can run your Salesforce reports and put them directly into an Excel spreadsheet.
To browser your reports, click on the Reports button in the main application window: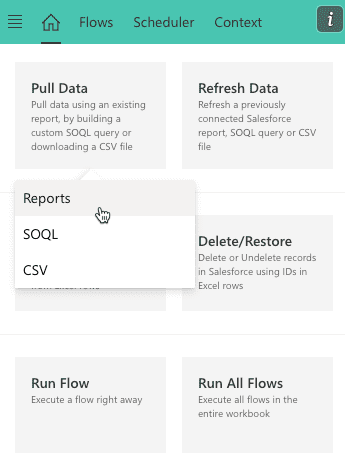 To run a specific report, you will first need to select it from the list. The list will initially show all recently run reports. If you want to search for a specific report – just start typing into the drop-down box. You must have at least one report created in Salesforce in order to see anything on the list.
There's an option to not pull some of the report columns by unchecking the corresponding column header checkbox.
If this report will be run as a part of a Flow – you have an option to set the behavior in case the report pull results in an error. The options are: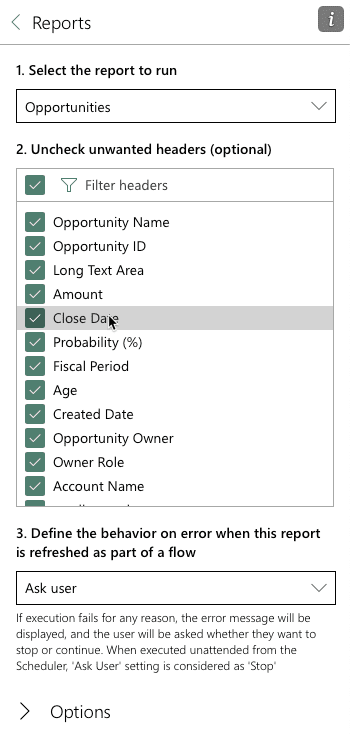 There are some options that you can adjust for each report as well: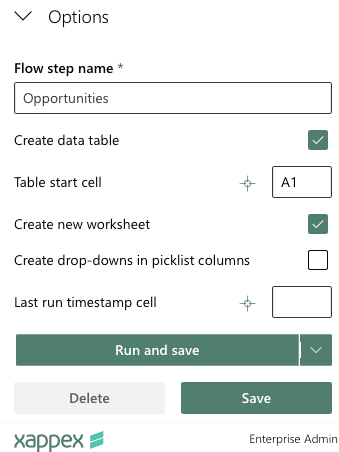 Flow step name  – this will show the report name by default, but you can rename this flow step by entering any text in that edit box.
Create Data Table – will create an Excel Data Table around the pulled data.
Table Start Cell – identifies the location in the worksheet where the report data will be inserted.
Create New Worksheet – if checked, will always put the report data on a new worksheet.
Create drop-downs in picklist columns – if checked, Excel will try to create Data Validation checkboxes in all cells of columns retrieved from Salesforce fields of type Picklist.
Last run timestamp cell – if specified, the timestamp of each report run will written to the specified cell.
Once a report is pulled, you can always refresh it later by clicking on the Refresh button on the main application screen.